Bring back Medieval Architecture!! 🐉🏰
#10 Castles are getting denied but we're learning about building science!
From the Curator 😎💻
Yo, What's up! Joseph here
Like always, I've scoured the internet for a few interesting things that you'll love! And decided to write about the things I love!… jk I think we'll all love and find this post useful 😅 I hope. Anyways, I bet you're all doing absolutely swell and for those of you who have started school, hope y'all are hanging in there! Let me know how it's going!
If you enjoyed this issue of Life of a Designer, consider buying me a coffee to show your support!👇
---
Article of the Week 📚
Entertain me here… Just imagine, dragons casually flying over your head as you walk down the sidewalk and white walkers coming out of the local coffee shop grabbing lattes in Santa Fe, New Mexico. Santa Fe would be a little too hot for White Walkers now that I think about it… lol, pretty funny thought though.
Last week, Santa Fe Historic District Review Board denied "Game of Thrones" author George R.R. Martin's 24' seven-sided tower on his property in New Mexico City. The building dubbed "Water Garden Keep" was designed to house Martin's vast library. 👀 Unfortunately, the board thinks the size and design are a little out of scale with the traditional low-lying Southwestern architecture…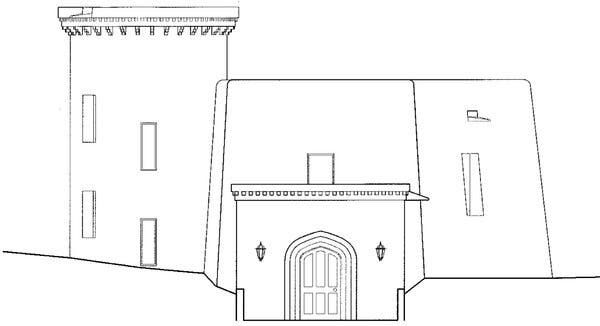 Cover it in adobe GEORGE!!!
Frank Katz, the vice chairman of the review board, said "It is a medieval castle, and I don't understand how we could possibly approve it in its style."
What it has come down to is that the neighbors just hate castles and badass dragons.. I mean I would love to wake up next door to a castle..
idk 🙆 let me know your thoughts! Would you be cool with the castle?
---
Resource of the Week 🔗
Architizer always comes in clutch with the resources and I figured I'd make sure you heard about this! They have 200 high-res people for download AND they have shadows. Shadows are pretty tough to get right so when you've got them, use em'!
---
Podcast of the Week 🎙
You can't talk about architecture blogs and podcasts without mentioning the OG of architecture content, Life of an Architect's Bob Borson. This week, Bob brings on Christine Williamson from Building Science Fight Club. If you're not sure who she is, head over to her Instagram and give her a follow. Her content has helped me immensely with construction details and just understanding how buildings come together in general! I met Christine "virtually" through a zoom happy hour a few months ago and she has a huge passion for what she does and a fun and energetic personality to accompany it.
Bob and Andrew ask Christine about her journey into architecture, the horror story of getting a job out of college, and how BSFC came to be. I hope you enjoy the episode and reach out to her on Instagram. What's really cool is that both Christine and Bob are fellow Texans!
You can read the talking notes and listen to the podcast here
Follow Christine and Building Science Fight Club on Instagram @BuildingScienceFightClub

---
That's all for this week, follow me on Twitter & Instagram 📲
I'll be back next week, same time, same place! 💪🏽